Snooker S.A. Events Page
ADELAIDE WSF EVENTS POSTPONED
Together with the ABSC we can today confirm that the WSF Open and WSF Junior Open tournaments scheduled to be played in Adelaide next January have been postponed until 2022 due to the coronavirus pandemic.
Both the WSF and the
World Professional Billiards and Snooker Association
are currently reviewing options as to how these important WST qualification opportunities can be maintained this season so that players are not disadvantaged.
2020 South Australian Women's State Snooker Champion
Congratulations
Sue Martin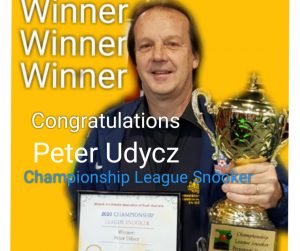 CHAMPIONSHIP LEAGUE SNOOKER 2020
Congratulations
Peter Udycz defeated Ray Farley 5-0
To Watch the Game click on below
2020 South Australian State Snooker Championship
Congratulations
Mikey Cacciola
Mikey fought hard to claim is first State Snooker Title. In a tense opening James Georgiadis got on top and opened up a 3-1 lead. The match turned in the fifth frame with Mikey knocking in a superb long black in a black ball game. Mikey capped off a great win knocking in a 75 break in the last frame.
It was a fantastic night with a crowd of 60 turning up to watch these top guns.
New Snooker Season Has Started!

Take the challenge and play Snooker!
Tuesday night – Handicapped teams (2players)
Wednesday night – Challenger league, Singles (B grade)
Thursday night – Handicapped teams (2 players)
Thursday night – Championship league, Singles (A grade)
Have had a great response for all leagues
but still spots available for each night.
for more information contact Phil Reilly at SnookerSa
7230 5810 or 0411 147 019
Interested in BILLIARDS ?

Wednesday nights – Handicap timed Billiards
+ Wine and Cheese and the end of the night
7:30pm Start everybody welcome
Adjusted South Australian Snooker and Billiards State Titles 2020
State Billiards – Round Robin / Quarter finals 29th August, Semi- Final 30th August, Final 2nd September.

Minor State Billiards – Round Robin 7th Sept, Quarter / Semi-finals 9th Sept, Final 14th September
State Snooker – Round Robin 26th Sept, Semi-final 27th Sept, Final 2nd Oct
Minor State Snooker – Round Robin/Semi-finals 24th Oct, Final 25th Oct
Women's State Snooker – Round Robin 15th Nov, Final 18th Nov
147 State Snooker – 7th Nov
6 Red State Snooker – 28th Nov
Presidents Cup
Snooker – 12th Dec
Billiards – 13th Dec
State juniors – Date to be arranged
All these dates are subject to change due to Covid restrictions